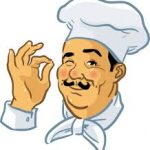 According to Wikipedia, the Chef de cuisine is a fancy French title for the main chef in a restaurant who is in charge of all other functional chefs in the kitchen.  Paul Brantley is just that at 'The Southern Steak & Oyster Restaurant' in downtown Nashville, TN.
While I have not met Paul or even eaten at his restaurant, I am impressed by his brilliance and sage advice when it comes to interviewing and hiring strategies.  Following are some notes from a recent newspaper article about Paul that may be of value to leaders.
His career in the restaurant business began when he was about 15 years old.  It was a job that offered flexibility and an income to support his musical interests.  Over time the artist in him became intrigued by another form of art… the aspect of creating beautiful food and food dishes.  He wanted to learn more about that art and connected with mentors who supported his growing interest.
The most intriguing aspect of Paul's story was the interview experience that landed him his present chef position; and totally changed his outlook on interviewing and hiring.  In the interview the hiring manager, who is a drummer, began by asking Paul, 'what kind of music he listened to.'  For the next hour music consumed their conversation and the interview finally ended with a hand shake and the words; you are hired… and you do know how to cook, right?  There had not been a word about food at all in that interview.  That was a game changer for Paul's approach to interviewing and hiring.  He says, he now puts less focus on kitchen experience and more focus on… can I live with this person for 60 hours per week?
As a coach and motivational speaker, my goal here is to plant a seed of possibility that our interviewing and hiring strategies may be too focused on specific backgrounds, experiences and competencies; missing a critical element of personality and compatible chemistry.  However, that shift in most interviewing and hiring approaches would require getting to know the real person behind a well-crafted resume and job description focused mostly on skills and competencies.
My question here…  Have you ever hired and mentored someone into excellence who did not have the specific skills and competencies the job posting outlined?  I admit I have… and the outcome was a win/win for the corporation, the employee and my team.   If I sound cynical; I am!  Relationships and a little mentoring may prove to be more relevant in hiring than so much reliance on a checklist exchange type interview that meets the 'formal test'; but maybe misses the 'most qualified' test.
Maybe this chef's dish should be served at your next leadership training!
Taken From an article in The Tennessean, on May 2, 2018, titled: 'Chef Dishes on Skill vs Personality'
Patricia Leonard, President of RUNWAY TO SUCCESS
www.patricialeonard.net pleonard01@comcast.net