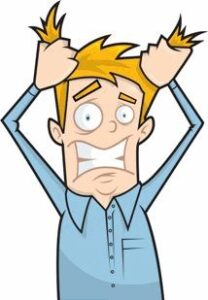 Those of you who know me are probably very surprised to see this title on one of my blogs.  Well, let me share my thoughts behind the title.
These times we are facing has driven many of us to scream out loud, pull at our hair, pray for the return of normal or just give up!  However, it seems that wishing for normal is not likely as 'normal' has gotten lost in the dust of the pandemic's disruption.
And, it appears we are in a time where clarity is a word, we only faintly remember the meaning of.  That lack of clarity about what lies ahead has caused many to use the      F-Word as an excuse for their frustrations.
I am here, as always, to offer you encouragement in letting go of your frustrations and insecurities, and forge ahead.  Making a commitment and taking action is the only way we can begin to begin, again.  That is what is required to face the F-Word head on.
By now, you are probably getting a hint of what my intent is in this writing.  In this blog the F-Word suggests that the 'F' stands for FEAR.  Yes, I realize there can be other word(s) that may have surfaced in your mind when you opened the blog; but at least it got your attention to read more.  AND, give me a break, would a nice girl from Indiana use naughty language?  Back to the original topic at hand!
Fear likes to step in during times of chaos and insecurity by sending signs that it is not the right time to plan anything.  Of course, during such times we are not thinking clearing, so we allow the confusing dialogue of fear to control our actions.
Fear can be a positive emotion when we are in danger or are in real trouble.  Fear can, also, be a negative emotion that may lead to procrastination, creative blocks or anxiety.  It can at times, become our excuse for not taking action; when the actual reason is, we are not really sure of what we want. Some define FEAR as False Evidence Appearing Real.
I am here to suggest that during these times may be just the perfect time to make some forward movement, even if the path ahead is not totally clear.  Truth is, it is just a false belief that there are perfect times to step up and step in…!  One thing's for certain, though … you won't have any real evidence until you try something. Your effort just may bring more success than you dreamed was possible.
If you have been thinking of something you would like to do: write a book, start a business, go back to school, organize your home/office/garage (garage is mine 😉), plan a vacation, etc.; now is the time to start.  There is really no better time than the present to set in motion a goal that will bring a sense of purpose to your life.  Go for it now and risk the possibility of a successful outcome.  
Don't allow the F-WORD to keep you from your dreams, goals and life purpose. NOW is the perfect moment to create a journal defining your five-year goal and visit it on a daily basis; jotting down thoughts or ideas that come to you.  This ongoing attention and awareness to your goal will bring amazing insights, supportive people and unexpected opportunities. 
Best to you in kicking the F-WORD to the curb and taking a giant step forward in manifesting your passions and purpose.  You will find the value of the outcome worth more than the perceived risk.
Patricia Leonard, President
Patricia Leonard & Associates
A Dream Builder helping you 'turn cants into cans and dreams into plans!
 A link you might be interested in reading about FEAR:  https://copyblogger.com/f-e-a-r/