THE MAGIC OF THE SEASON
This final 2020  blog from a believing 'Everyday Diva' is intended to hug your spirit with celebration, love, hope and dreams for the future.
Before we look ahead, let's take a look back at how the world of arts and entertainment has enriched our lives over the years with one particular film produced in 1946.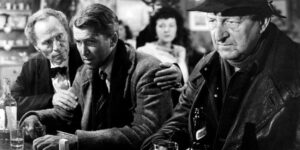 Frank Capra's production of 'It's a Wonderful Life' is considered one of the best movies of all time in its genre and features an outstanding lead performance from Oscar-nominated James Stewart as George Baily (co-star, Donna Reed, as Mary Hatch).  The film was based on a short story "The Greatest Gift" written by Philip Van Doren which was inspired by a dream he had. It is a tender and beautiful look at the undervalued joys of humanity and the power of the human spirit.
For years after its release, 'It's A Wonderful Life' was considered something of a disappointment by both audiences and the people who made it — even though it went on to receive five Oscar nominations, including Best Picture, Best Director, and Best Actor.  It was only when the movie became a syndication mainstay that it finally earned its reputation as a Christmas masterpiece.
One would be hard-pressed to deem Frank Capra's seasonal classic as anything other than a classic. Yet, it was considered too racy by the Huffington Post, garnered mixed reviews by audiences, bombed at the box office and failed to recoup the $6.3 million it would need to break even.  If it weren't for a lapse in the movie's copyright, we might not remember the movie as fondly as we do today.  It's very turbulent road to success only makes it easier to appreciate this timeless tale.
This particular film's struggle for success and the film's encouraging story remind us that even through turbulent and hopeless times that believing and trusting is even more important.  2020 has given us an awareness and an appreciation of what is really important in our lives.  It is only when we slow down from the hustle and bustle of life that we pay attention.
As this year comes to a close, may we be reminded of the MAGIC OF THE SEASON, and reach out to those we love; smile at the stranger in the grocery store; wave appreciation when someone slows down to allow you to change lanes on the highway; say 'thanks' to someone who holds the door for you; give your waste management professionals a box of candy when they are picking up your garbage; send an email Christmas/Holiday card to your connections; speak about your 'gratefulness' everyday upon rising; hug your family members; be intentional about finding a way to show someone you care and dream BIG DREAMS for 2021.
Let us be reminded of the gifts that have surfaced during this season; and, that in the end 'IT'S A WONDERFUL LIFE'!  Keep believing and create a happy and prosperous year ahead.
Sending Blessings for a Magical Season and an Electrifying 2021!!!    Patricia
FOR MORE DETAILS:  https://www.cinemablend.com/news/2559415/its-a-wonderful-life-behind-the-scenes-facts-about-the-classic-christmas-movie
Patricia Leonard
Speaker, Coach, Author, Actress
615-406-9644