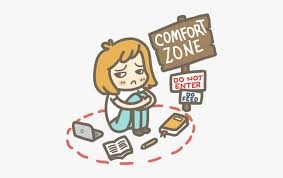 HOW MUCH DO YOU LIKE YOUR COMFORT ZONE?  DO YOU HAVE THE WILLPOWER TO CHANGE WHAT IS NOT WORKING OR FULFILLING?
THE ANSWER IS BELOW…
"It may not be 'will power' but 'willing power' that holds you back from accomplishing your goals and dreams!
__________________________________
So often we tell our friends, associates and family members about how much we hate what we are doing and who we are working for and with… AND, that same story continues day after day, week after week, month after month and year after year; even often adding many more chapters to the story with basically the same rhetoric repeated.
In order to get out of the spinning in that comfort zone it requires letting go of the willingness to accept the comfortable uncomfortableness; and, muster up the will and motivation to create a new direction.  Many use their 'will power' by getting creative in defining excuses for not taking action and continuing to stay.
WHY?
There are many reasons why.  Some are lazy; some like to complain; some like the compassion received from others; some fear failure; some use the excuse of not knowing where or how to start… (the latter was me…until now) and these excuses and reasons establish a soft landing for broken hearts impacted by a reluctance to change.  2020 caused me to reflect on 'me' and the value of living a fulfilled life.  This year, I have committed to step into my 'will power' for a more fulfilled life and career by creating a speaking platform focused on 'will power' engagement.  What is a commitment you are willing to make?
NEXT?
Think about it!  What will cause you to finally leave your comfortable uncomfortable zone and step into your 'will power'?  By this action you will be choosing to take off the mask of excuses or victimhood and step up to your RUNWAY TO SUCCESS for the possibility of finding life and career fulfillment?  Now is the perfect time to plant the 'will power' seeds for manifestation in 2021.
Patricia Leonard, Speaker, Coach, Author
President, Patricia Leonard & Associates
615-406-9644
https://runwaytosuccess.teachable.com
https://www.youtube.com/watch?v=f5hCQ7M-x_4
#patricialeonard #change #lifepurpose #dreams #willpower #willing #dreams
#career #lifefulfillment